Special Offer for Infinite Energy Natural Gas Customers
12-mo fixed rate offer 33.9 cents per therm
You still have time to join Georgia's highest-rated natural gas provider
Google rating of 4.5 out of 5 stars
Dear Infinite Customer,
Just as you chose Infinite Energy, you're able to choose your provider again now that your home account is being transferred to Gas South.
And for a limited time, True Natural Gas has an incredible offer exclusively for you.
Right now, our 12-month fixed rate plan is $0.57 per therm, but as a former Infinite Energy customer, you can get this rate for just 33.9¢ per therm!
You have three easy ways to sign up:
Comparison Table: Consistantly low rates, True Natrual Gas 57 cents versus Gas South $0.65 for 12 month fixed. TrustDale Certified, Yes, True Natrual Gas is TrustDale Certified, Gas South is not. Monthly Service Rate Under $6, True Natrual Gas is from $3.45 to $5.95 versus Gas South from $6.95 to $9.95. Loyalty Program That Gives Back To you, Yes, True Natural Gas has True Rewards, Gas South does not.
Just call Janay at 770-766-8820, Monday thru Friday 8 AM to 5 PM EST and mention the promo code "Infinite"
Fill out the contact form below and we will start the process
Complete the request on TrustDale's website
As a special thank you, you'll also receive a $10 credit on your first bill to welcome you to True Natrual Gas.
But hurry! You must act before June 30th to get your low fixed rate and $10 bill credit!
We look forward to serving you.
Signed: Always True, True Natural Gas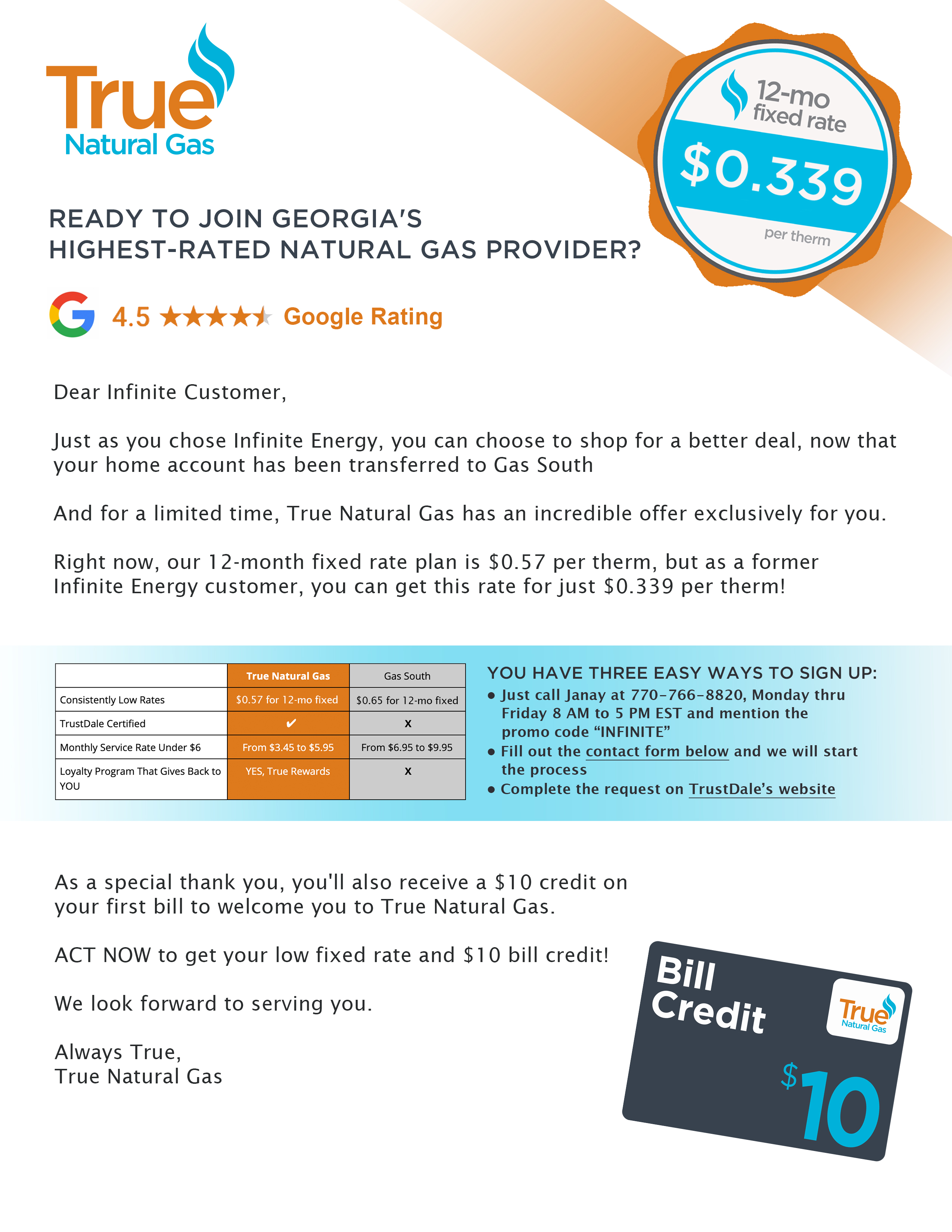 What our customers say about us…
Information Received
Thank you for contacting True Natural Gas. We will be in touch with you soon regarding your request. If you would like to speak to a Customer Service Representative, please call 770-502-0226. Customer service hours are Monday through Friday, 8 am to 5 pm.
Moving? Take us with you. New Service
TrustDale's thorough analysis finds True Natural Gas at the top of this scale. If you are seeking a hometown choice, with experience and a commitment to providing your lowest price, with no gimmicks, delivered by friendly, well trained professionals, switch your service now!
Learn More